Found this article in Marketing magazine quite interesting. The slang names that are given to brands in popular culture.
Lots of alternative variations spring to mind!
http://www.marketingmagazine.co.uk/News/EmailIt/969043/51A72FDFE571170C009E3772DEB5F210/
Top 20 slang brands
LONDON – McDonald's may be attempting to trademark its popular slang name, 'Maccy D's', but it isn't the only multinational to be given a 'slang brand' by consumers.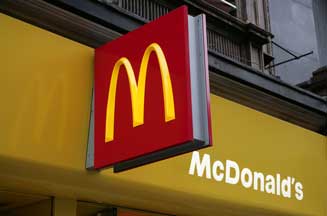 McDonald's
Some marketers have tried to create their own slang brands, such as Pizza Hut ('The Hut') and Southern Comfort  with 'SoCo', but so far we've never heard anyone call it SoCo outside of its TV ads
Here's Marketing's Top 20 slang brands. Please suggest your own.
American Express / Amex
BMW / Beemer
Bollinger / Bolly
Buckfast tonic (wine) / Buckie
Cadillac / Caddy
Champagne / Champers
Chevrolet / Chevy
Facebook / Stalkbook
Guardian / Grauniad
Heineken / Heinie
Jack Daniels / JD
Kronenbourg / a pint of numbers ….
Marks & Spencer / Marks & Sparks
McDonald's / MaccyD's
NatWest / NatWorst
Microsoft / Billysoft
Primark /  Primarni
Rolex / Rolly
EasyJet / Squeezy-Jet
Woolworths /  Woolies